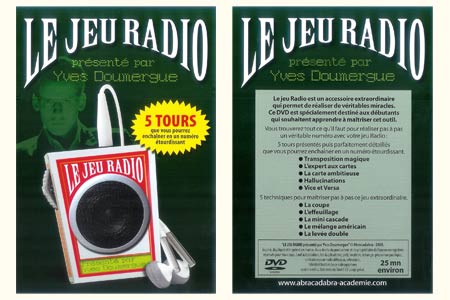 Description
Le
jeu radio
est un
accessoire extraordinaire
qui permet de réaliser de
véritables miracles
. Ce
DVD
est spécialement
destiné aux débutants
qui souhaitent apprendre à maîtriser cet outil.
Vous trouverez
tout ce qu'il faut pour réaliser pas à pas un véritable numéro avec votre jeu Radio
:
5 tours
présentés puis parfaitement détaillés que vous pourrez enchaîner en un numéro étourdissant.
Transposition magique
L'expert aux cartes
La carte ambitieuse
Hallucinations
Vice et versa
5 techniques
pour maîtriser pas à pas ce jeu extraordinaire.
La coupe
L'effeuillage
La mini cascade
Le mélange américain
La levée double
Langue :
française –
Durée :
25 mn environ

Return to the catalogue




We advise you with this product :
1.
DVD Tagged (Richard Sanders)
29.5 €

2.
WireGram 3 of Hearts
20 €

3.
Sonata (French version)
40 €