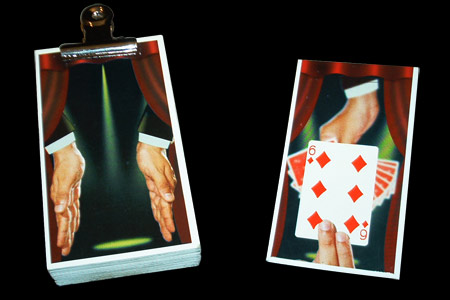 Description
Le spectateur choisit une
carte au hasard
dans un jeu de cartes.
Vous montrez ensuite un
paquet de cartes
avec une image de
mains dessus
.
Vous
effeuillez
alors le paquet de cartes et les
mains semblent alors s'animer
comme dans un film (principe du flip book) : les mains
applaudissent
et un paquet de carte apparaît. Les cartes sont éventaillées et une
carte semble sortir du jeu
. La main récupère alors la carte et la tourne …il s'agit de
la carte choisie
.
Cette carte de visite avec le dessin de la carte choisie est donnée au spectateur qui s'apercevra alors qu'il s'agit de votre vraie carte de visite.
Connaissez-vous une façon plus magique de remettre sa carte.
Le spectateur se souviendra sans doute très longtemps de vous et de votre carte !
Très simple à réaliser

Fonctionne avec toutes cartes de taille standard (8,5 x 5 cm)

Peut être effectué avec une carte différente à chaque fois

Contient 24 stickers avec 4 cartes différentes

Return to the catalogue


We advise you with this product :
1.
Cartoon BICYCLE Deck
19.5 €