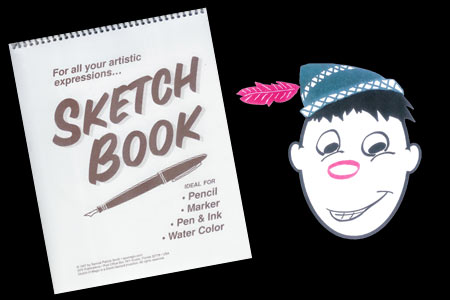 Description
Voici un album un peut particulier. Les
pages sont découpées en 3 bandes horizontales
.
Sur la bande du haut se trouve dessiné le
haut de la tête
, le front, les cheveux ou le chapeau.
Sur la bande centrale se sont
les yeux et le nez
.
Et sur la bande inférieure, la
bouche et le menton
.
Sur chacune des pages, vous découvrirez des têtes toutes différentes, certains personnages sont gais, d'autres tristes ou en colère…certains ont la tête coiffée d'un chapeau, d'autres d'une casquette ou tout simplement chevelus ou chauves…
Ce sont des
centaines de personnages différents que vous pourrez créer
.
Encore plus fort, dites alors aux enfants que vous allez
faire une prédiction…
Dans une enveloppe, glissez votre prédiction, le personnage que les enfants vont créer.
Effeuillez les bandes supérieures
du carnet et demandez à un enfant de dire stop quand il le souhaite. La partie haute du visage est maintenant connue.
Recommencez l'opération avec les bandes du milieu et inférieures…
ça y est, le personnage des enfants est totalement crée.
C'est à ce moment là que vous demanderez à un enfant d'ouvrir l'enveloppe contenant votre prédiction. Et la miracle, les enfants resteront certainement bouché bée.
La prédiction et le dessin qu'ils ont crée sont identiques !
Complètement automatique
Très bluffant
Fera participer tout vos spectateurs.
Dimension de l'album : 28 x 22 cm.

Return to the catalogue


We advise you with this product :
1.
Manual Ultimate Sketch Pad Trick
180 €