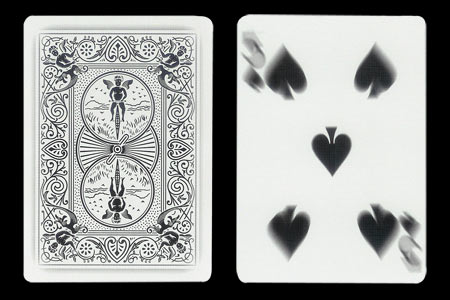 Description
Cette carte particulière de
Ghost
est un
5 de pique mais les indices et valeurs sont flous
.
Voici une idée de routine à réaliser : après avoir montré un 5 de pique, faites un filage de la carte, c'est-à-dire que vous la secouez un peu puis vous l'arrêter progressivement.
Lorsque le public regardera à nouveau la carte celle-ci sera complètement floue.
Le public s'en frottera les yeux !
Imprimé par Bicycle.

Format poker : 63 x 86mm.

Dos Ghost.

Return to the catalogue


We advise you with this product :
1.
BICYCLE Deck
3 €

2.
Bicycle Gaff Deck (Tiger)
35 €

3.
Bicycle Gaff Deck (Ghost)
30 €