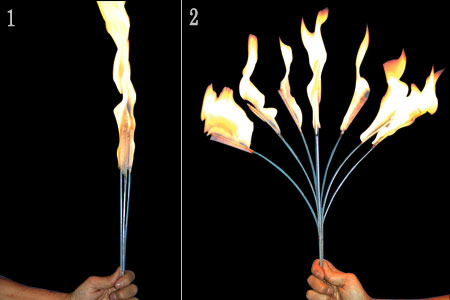 Description
Alors que vous tenez dans votre main une
torche enflammée
dites par exemple que vous trouvez le lieu bien sombre et qu'il vous faudrait plus de lumière…
Vous réfléchissez pour trouver une solution, et là un éclair de génie.
Observez votre torche, et là miraculeusement votre unique torche vous offre la lumière qu'il vous manquait.
En effet,
ce n'est plus une torche
que vous avez entre les mains mais
7
!
Et pourquoi ne pas utiliser une
canne à apparition (non fournie)
en complément ! Vous ferez ainsi disparaître les 7 torches en une fraction de secondes pour laisser place à une magnifique canne argentée.
Dimensions :
Longueur :
40 cm

Cet accessoire peut faire un malheur lors d'une routine de magie comique.
Return to the catalogue


We advise you with this product :
1.
One Torch of Fire to Five
55 €