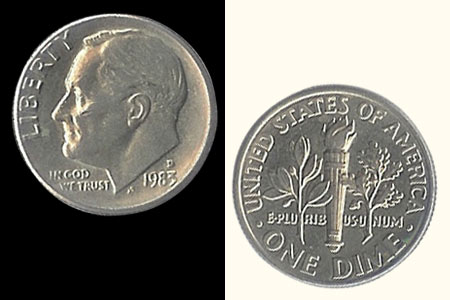 Description
Voici de véritables pièces de
un dime
.
Le 32ème Président des Etats-Unis, Franklin D.
Roosevelt
est gravé sur la face des pièces alors que du côté pile se trouvent une
torche, une branche de chêne et une branche d'olivier
.
Vous pourrez utiliser ces pièces lorsque vous réaliserez des
tours truqués
, lors d'
apparition de plusieurs pièces
ou lors d'un
change
.
L'avantage de ces pièces est qu'elles peuvent être
dissimulée dans un FP
.
Vendues par 8.
Dimensions d'une pièce :
Diamètre :
1,7 cm.
Epaisseur :
1 mm.
Poids :
2 g.

Return to the catalogue


The items from this "Magic Set"
1.
1 Dime Coin (per unit)
1.25 €

We advise you with this product :