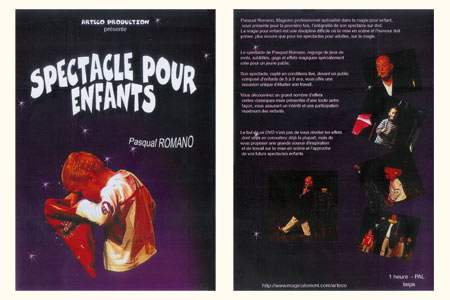 Description
Pasqual Romano
, magicien professionnel spécialisé dans la magie pour enfant, vous présente pour la première fois
l'intégralité de son spectacle
sur DVD.
La magie pour enfant est une discipline difficile où la
mise en scène et l'humour
doit primer, plus encore que pour les spectacles pour adultes.
Le spectacle de Pasqual Romano regorge de
jeux de mots, de subtilités, gags et effets magiques
spécialement créés pour le jeune public.
Son spectacle, enregistré
en live
, devant un public d'enfants de 5 à 9 ans, vous offre une occasion unique d'étudier son travail.
Vous découvrirez un grand nombre d'effets certes classiques mais présentés d'une toute autre façon, vous assurant un intérêt et une participation maximum des enfants.
Le but de ce DVD n'est pas de vous révéler les effets dont vous connaîtrez déjà la plupart, mais de vous proposer une
grande source d'inspiration
et de travail sur la mise en scène et l'approche de vos futurs spectacles pour enfants.
Langue :
français –
Durée :
1h.

Return to the catalogue




We advise you with this product :
1.
La grande magie des tout petits
36.5 €