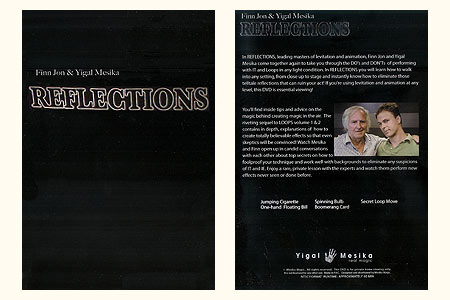 Description
Finn Jon et Yigal Mesika
reviennent avec un DVD grâce auquel vous allez pourvoir
maîtriser le Loops
dans n'importe quelle situation.
Dans ce DVD, vous apprendrez à gérer n'importe quelle entrée, en close-up ou sur scène et comment éliminer instantanément ces petits problèmes qui peuvent ruiner votre spectacle.
Que vous soyez professionnel ou amateur de la lévitation et de l'animation, ce DVD vous sera indispensable !
Vous y trouverez des
conseils et des astuces
pour faire de la magie dans les airs.
Le
passage consacré au Loops
, suite des volumes 1 et 2, comprend des
explications très pointues
, sur comment créer des effets tellement réels que même les plus sceptiques seront convaincus !
Regardez ce DVD de Mesika et Yigal dans lequel ils tiennent une conversation franche l'un envers l'autre, parlant de leurs secrets…
Profitez de ce moment rare, une
leçon privée avec des experts
et regardez les faire de
nouveaux effets
jamais vu ou réalisés auparavant.
AU SOMMAIRE :
Jumping Cigarette
One-hand Floating Bill
Spinning Bulb
Boomerang Card
Secret Loop Move
Langue :
anglais –
Durée :
60 min environ.

Return to the catalogue




We advise you with this product :
1.
Loops
15 €