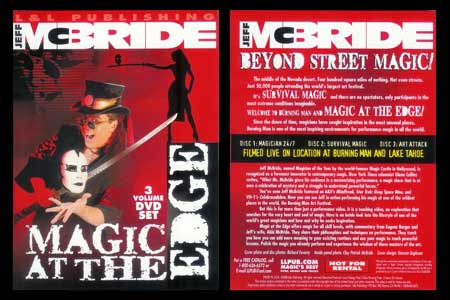 Description
Au beau
milieu du désert du Nevada
, au milieu de rien, 50000 personnes se sont rassemblées pour
le plus grand festival artistique du monde
.
De tous temps, les magiciens ont puisés leur
inspiration dans les lieux les plus insolites
.
Burning Man en fait partie.
Jeff Mc Bride
a été nommé
Magicien de L'Année
par le "World-famous Magic Castle" à Hollywood et est reconnu comme
le plus grand innovateur dans la magie contemporaine
.
La journaliste Glenn Collis du New York Times a dit « Jeff Mc Bride offre un show vraiment hypnotique à son public… »
Vous aviez pu voir Jeff Mc Bride a A&E'S Mindfreak, à Star Trek : Deep Space Nine et à VH-1'S Celebracadabra, retrouvez le maintenant en action dans un des lieux les plus étrange du monde, le Burning Man Festival.
Magic at The Edge offre de
la magie pour tous les niveaux
, commenté par Eugene Burger et Abbi Mc Bride, la femme de Jeff. Ils partagent leur
philosophie et leurs techniques
. Il vous explique également
comment donner plus de sens à vos routines
.
Affiner vos routines et laisser vous bercer par
la sagesse de ce maître
dans l'art de la magie.
DVD 1 : MAGICIAN 24/7
Effects :
Tribal Piercing
Magic Wishing Rainbow
Rainbow to Dollar, Wishing Rainbow/Rainbow to Rose
Magic Bubbles
Hindu Rope-Rising Card, The Bead and String Mystery
World's Fastest Hands
No Smoking
The Pod Belt Trash Blendo
Mc Wallet
Discussions :
Magician 24/7
Audience Participation, Flight Time
21st Century Street Magic with Eugene Burger
Definition of a Magician
Bonus Material :
Meet Jeff Mc Bride
The Shamman's Drum
Mc Tip 1
DVD 2 : SURVIVAL MAGIC
Effects :
Houdini Straightjacket
Magnetic Cards
Heart Connection
Prisna's Dancing Cane
The Shark Fin Pin
Samina's Into Gold
Trash to Treasure
Business Card Connection
Mc Quick Tip Trick
Mc Mint
Discussions :
Traveling with Props
Less-On
Interview with Sensei Strange
Bonus Material :
Mystery School
Assistant's Revenge
Mc Tip 2
DVD 3 : ART ATTACK
Effects :
The Chen Mc Burger Water Suspension
Water in Newspaper
Jinks
Listen to the Mustn'ts
Hermetic Stargazer
Spellbound
Spellboung Moves
Burning Man in the Hand
The Fire Ritual
Discussions :
About Burning Man
Simplicity
Bonus Material :
Kabuki magicaplanet Mc Tip 3
TV Commercial
Fire Circle
Langue :
anglais –
Durée des 3 DVD :
5h23 min.
VOIR LA VIDEO

Return to the catalogue
This item is no longer
sold on Magicaplanet