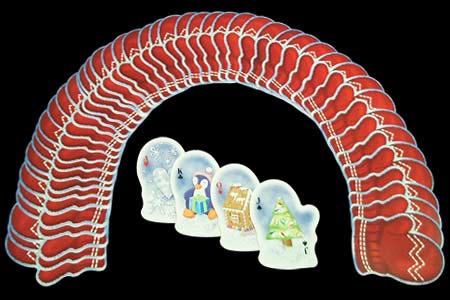 Description
Ce jeu de cartes a une forme originale puisque la totalité du jeu a la forme d'un...
gant.
Ce jeu ravira petits et grands.
Les
figures représentées sont tout aussi hors du commun
puisque les valets sont représentés par un sapin de Noël décoré, les dames par une petite maison décorée et enneigée, les rois par un pingouin tenant un cadeau entre ses mains, et l'indice de l'as est entouré de flocons et de givre.
Les dos représentent eux un gant rouge à motifs blancs.
Que ce soit pour se divertir en jouant aux cartes ou pour surprendre votre public, ces cartes raviront tous les publics.
Idéales pour jouer

Idéales pour les utiliser dans vos routines de cartes

Cartes de 8,5 x 6,1 cm aux extrémités les plus grandes.

Return to the catalogue


We advise you with this product :
1.
TALLY-HO Fan
3.5 €

2.
BICYCLE Deck
3 €