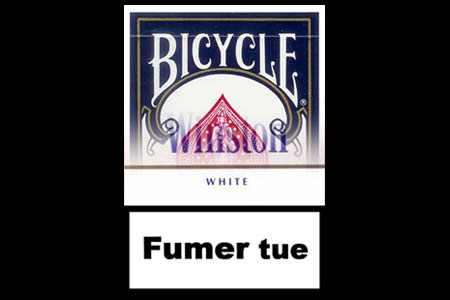 Description
Du jamais vu, en ces temps où l'interdiction de fumer est au coeur des débats,
transformez un paquet de cigarettes en paquet de cartes Bicycle
.
Idée de routine :
Alors que vous vous trouvez dans un lieu public, sortez un paquet de cigarettes de votre poche.
Certain ne manqueront pas de vous rappeler qu'il est interdit de fumer dans les lieux public.
Vous expliquerez alors que ce n'est pas un problème puisque vous êtes magicien et que ceci pourra être résolu en quelques secondes.
En effet, en moins de temps qu'il ne faut pour le dire,
votre paquet de cigarette se transforme en un véritable paquet de cartes Bicycle
.
Très discret.

Idéal pour le Table-Hopping.

Tout est livré y compris les cartes.

Complètement automatique, utilisation possible dès réception.

Disponible en paquet bleu ou rouge.

Return to the catalogue


We advise you with this product :
1.
Maxi Cigs
8.5 €

2.
Salomon
12 €

3.
La carte dans la Montre
35 €