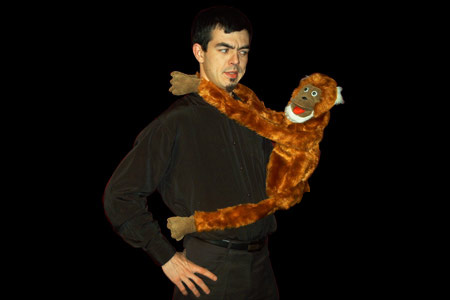 Description
Le singe ventriloque est revêtu d'un
pelage très doux de couleur rousse
.
Son
visage est en velours côtelé, marron, le nez et les yeux en plastique
.
Lorsque sa bouche est ouverte vous pourrez y voir sa langue en tissu rouge. Notre adorable petit singe est aussi doté d'une
barbe blanche
, d'oreilles a poils blancs également, de
très longs bras, jambes et queue
.
Les bras et les jambes, très longs, puisque notre singe ressemble étrangement à un orang-outang, sont dotés de mains et de pieds en velours également. Sur ses
mains et ses pieds
vous trouverez un
système d'accroche par scratch
, ce qui permettra au singe de
s'agripper à votre cou et vos hanches
.
Glissez votre main, à l'intérieur de la marionnette et faites lui prendre la parole.
Ainsi les
ventriloques
pourront aisément dialoguer avec leur peluche, les
clowns
pourront développer le côté humoristique de la peluche, les
magiciens
pourront l'utiliser comme un véritable assistant, les
conteurs
pourront agrémenter leurs histoires de commentaires…
Taille du corps :
50 cm.
Longueur des bras :
55 cm.
Longueur des jambes :
55 cm.

Return to the catalogue


We advise you with this product :
1.
Comment devenir ventriloque
35 €

3.
DVD Ventriloque Academy
35 €