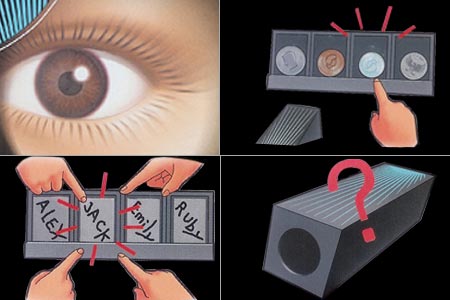 Description
Voici un petit tour très sympathique que vous pourrez utiliser avec de divers accessoires, mini cartes, pièces de monnaie ou morceau de papier écrit…
Voici la description du tour de base.
Montrez 4 mini cartes à une personne et demandez lui de
choisir secrètement une carte
.
Sans regarder, demandez lui de
placer la carte choisie dans un petit cadre noir
et de placer le tout sur un petit présentoir noir.
Il fera
de même avec les 3 autres minis cartes dans 3 cadres différents
.
Emparez vous de votre Mystic Scope
observez les cadres au travers de votre lorgnette et en un instant révélez la carte sélectionnée…
Vous pouvez bien évidement donner à inspection la lorgnette avant et après la prédiction.
Ce tour pourra être présenté avec
d'autres accessoires
comme des pièces ou un morceau de papier sur lequel un nom aura été inscrit.
Ce qui est génial, c'est qu'à la fin de votre spectacle,
le mystère du Mystic Scope restera gardé
.

Return to the catalogue


We advise you with this product :
1.
Lunettes magiques Deux de cœur
9.5 €