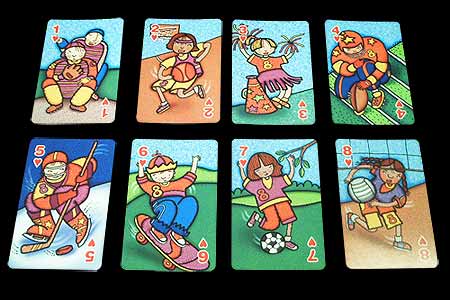 Description
Un jeu de 32 cartes au format bridge dont les index vont du 1 au 8.
Ce jeu comporte des
images d'enfants s'adonnant à leur sport favoris
.
Vous verrez donc des images d'enfants jouant au football, au football américain, au basket-ball, au baseball, au volley-ball, au hockey sur glace, ou encore faisant su skate et même une pom-pom girl.
Ce jeu est très simple et sera un excellent divertissement pour apprendre à vos enfants à compter, à rassembler, à classer et apprendre des jeux de cartes.
A utiliser dés l'âge de 3 ans ou en famille
Idéal pour apprendre et s'amuser
Jeu de 32 cartes
Format bridge
Idéal pour des routines de petits paquets pour des enfants

Return to the catalogue


We advise you with this product :
1.
TALLY-HO Fan
3.5 €