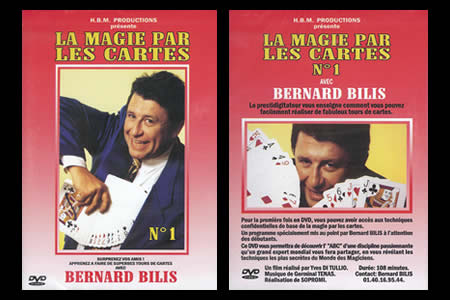 Description
Pour la première fois en DVD, vous pouvez avoir accès aux techniques confidentielles de base de la Magie des cartes. Un programme spécialement mis au point par
Bernard BILIS
à l'attention des débutants.
Ce DVD vous permettra de découvrir l' "ABC" d'une discipline passionnante qu'un grand expert mondial vous fera partager, en vous révélant les techniques les plus secrètes du Monde des Magiciens.
Durée: 108 min -
Langue:
Français -
Standard:
PAL DVD

Bernard BILIS présente tous les mois un tour de Close-Up à la table de Patrick Sebastien dans "Le Plus Grand Cabaret du Monde!".
Return to the catalogue




You can find this magic item in :
1.
Lot DVDs La Magie par les Cartes
129 €

We advise you with this product :
1.
DVD Tagged (Richard Sanders)
29.5 €

2.
WireGram 3 of Hearts
20 €

3.
Sonata (French version)
40 €