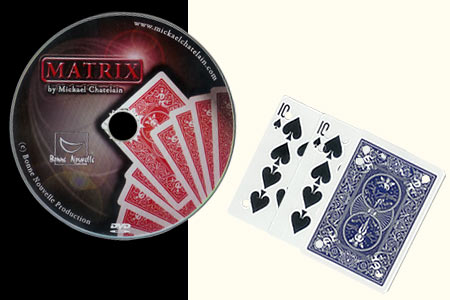 Description
Vous connaissez le Matrix avec des pièces? Maintenant imaginez la même chose mais avec des trous dans une carte.
Sortez de votre jeu une carte avec quatre trous, un dans chaque angle. Prenez un des trous entre vos doigts et faites le glisser jusqu'à l'angle opposé.Lorsque vous écartez les doigts, le public découvre que
le trou s'est déplacé sur la carte !
Il y a maintenant deux trous côte à côte dans le même angle.Vous déplacez les 2 trous suivant de la même façon. Les spectateurs ont l'impression que les trous glissent sur le dos de la carte.
L'effet est saisissant !
Au final, les quatre trous se retrouvent dans le même angle et la carte peut même être laissée à l'examen.Vous pouvez aller et faire venir les trous comme vous le désirez !
Bilis
lui l'a présenté avec un clou au travers du trou. Il déplaçait le clou sur le dos de la carte entraînant le trou avec lui.
Le tour est facile et ne demande aucune manipulation
Le déplacement des trous est hallucinant. Il vous suffira de mettre vos doigts sur une perforation pour être en mesure de la déplacer sur toute la longueur de la carte.


Cet effet a été présenté par Bernard Bilis au plus grand Cabaret du Monde


Pas de flap, pas de volet. Ici, il s'agit d'un tout nouveau principe.


Le concept est ingénieux
Le matériel fourni est d'une excellente qualité.

Return to the catalogue


You can find this magic item in :
1.
Coffret Wanted
75 €

We advise you with this product :
1.
Hollow 2
38 €

2.
DVD Matrix / Coin Assemblies
22.5 €