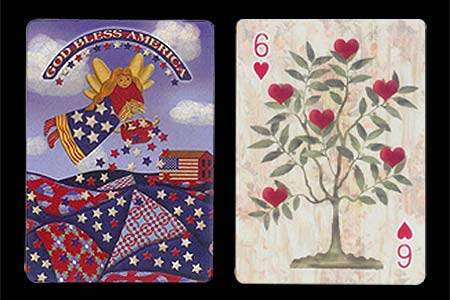 Description
Voici un jeu de cartes vraiment original au regard des illustrations qui le caractérisent.En effet, le dos des cartes comporte un dessin, dans un style très
" patchwork "
, représentant un champ avec une maison au dessus duquel un ange distribue des étoiles, le tout bien évidemment dans les tons rouges, blancs et bleus.Le jeu comporte ensuite
treize cartes différentes
(identiques pour chaque valeur) ainsi que deux jokers également différents du reste du jeu.Dans un dégradé de tons pastels qui ne vont pas sans rappeler les couleurs du drapeau américain, les illustrations sont légèrement vieillies et ont une certaine touche de naïveté.Un très beau jeu pour compléter votre collection ou pour agrémenter vos routines de magie. Avec ce jeu vous pourrez vous distinguer avec art et dignité.
Permet de réaliser de jolis éventails
Jeu taille poker
Jeu de 52 cartes plus 2 jokers

Return to the catalogue


We advise you with this product :
1.
TALLY-HO Fan
3.5 €