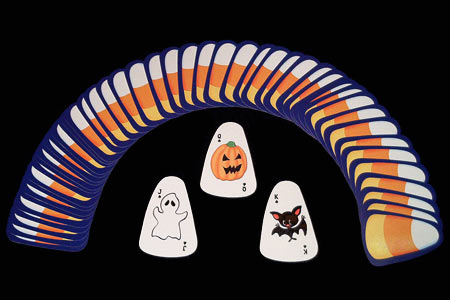 Description
Voici un petit jeu de cartes fort sympathique de par sa forme originale. En effet toutes les cartes ont la forme de
chapeaux d'Halloween.
Idéales pour jouer à l'automne (bien évidemment) vous pourrez également les utiliser pour jouer entre amis, avec vos enfants ou en famille.Les magiciens seront ravis de pouvoir agrémenter leurs spectacles avec ces petites cartes qui provoqueront sans aucun doute l'hilarité !Les piques et les trèfles sont représentés en noir alors que les coeurs et les carreaux le sont en orange. Chaque figure fait référence à la fête d'Halloween puisque les valets laissent apparaître un
fantôme
, les dames sont représentées par des
citrouilles sculptées
, les rois sont en réalité une
petite chauve-souris noire
alors que les as présentent quelques
bonbons
qui ne vont pas sans rappeler la tradition de cette fête.Un jeu à la fois effrayant et rigolo, qui ravira petits et grands.

Return to the catalogue


We advise you with this product :
1.
TALLY-HO Fan
3.5 €

2.
BICYCLE Deck
3 €