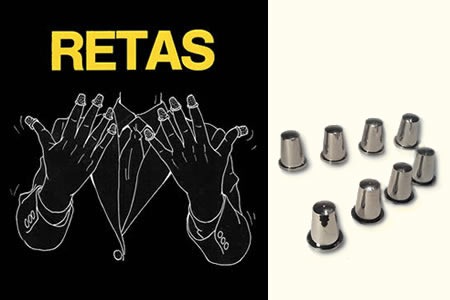 Description
Vous économisez 6,50 € sur le lot
soit près de 15% de remise.
Ce lot de 2 articles vous permettra de réaliser les plus belles routines de dés à coudre. L'ouvrage de Retas vous permettra de réaliser les routines dont vous avez toujours rêvé, et ce avec de superbes dés chromés.
Dés à coudre - Silver (Vernet)
Le magicien présente un dé à coudre sur son index.
Le dé apparaît, disparaît et réapparaît sur l'autre index.
Puis, il se multiplie et chaque doigt porte un dé à son extrémité !
Pour l'effet final,
huit dés apparaissent aux bouts des doigts des deux mains.
Version Chromé !
8 dés chromésRoutine de dés à coudre RETAS
Un livre Collector qui explique de façon détaillée comment évoluer avec grâce et élégance avec des dés à coudre, un classique qui ne cesse d'enchanter le public, après toutes les époques qu'il a traversées.
Les explications détaillées sont en
6 langues
: Français, Espagnol, Anglais, Portugais, Italien et Allemand.
Format
: 21 * 24 cm,
57 pages
et près de
50 photos
.

Return to the catalogue


The items from this "Magic Set"
2.
Silver Thimbles (Vernet)
16.5 €