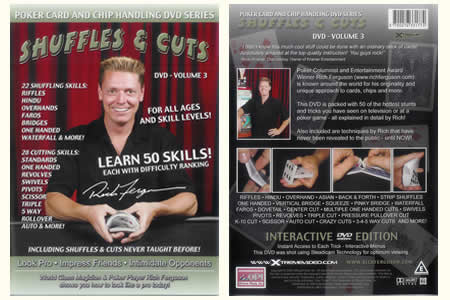 Description
The official poker - vol.3
"Simply the best! Rich is the authority on poker chip tricks and stunts with cards! I can't wait to see more! My subscribers are waiting for tricks like these! Great job!"
Bluff Magazine
Poker columnist and Entertainment Award Winner,
Rich Fergusson
is known around the world for his originality and unique approach to cards, poker chips and more.
His passion brought him to produce a
DVD series to reveal all his secrets.
It includes the necessary basis for you to look like an expert in poker.
This DVD is packed with
50 of the hottest stunts and tricks
you have seen on television or at a poker game - all explained in detail by Rich!
Also included are
techniques by Rich
that have never been revealed to the public - until now!
Stunts included:
Riffles - Hindu - Overhand - Asian - Back & forth - Strip shuffles - One handed - Vertical bridge - Sueeze - Pinky bridge - Waterfall - Faros - Dovetail - Center cut - Multiple one handed cuts - Swivels - Pivots - Resolves - Triple cut - Pressure pullover cut - K-10 cut - Scissor - Auto cut - Crazy cuts - 3-4-5 way cuts - and more!
Language
: English.

Return to the catalogue




We advise you with this product :
1.
Auto deck final vision
15 €

2.
Brainwave Deck
12 €