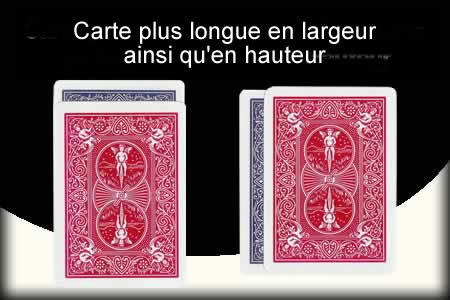 Description
Cette carte semble si ordinaire… et pourtant…
Prenez une carte traditionnelle et comparez-la avec la carte longue… Vous serez surpris de constater que cette carte est légèrement plus large mais également légèrement plus longue qu'une carte ordinaire.
Cependant cette différence est si peu notable que n'importe lequel de vos spectateurs n'y verra que du feu.
Vous vous rendrez vite compte des utilisations multiples de cette carte. À la fois pratique et astucieuse, vous ne pourrez plus vous en passer.
Vous pourrez ainsi facilement la retrouver après de nombreux mélanges et de nombreuses coupes.
Les utilisations sont multiples, laissez aller votre imagination.
Largeur : 6,4 cm (au lieu de 6,3)


Longueur : 8,9 cm (au lieu de 8,7)


Disponible en dos rouge ou bleu

Return to the catalogue


We advise you with this product :
1.
BICYCLE Deck
3 €

2.
Small Cards
32 €

3.
Paramiracles
60 €