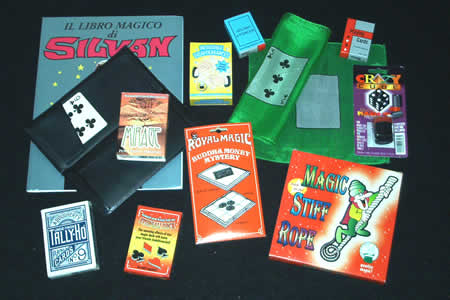 Description
40 € (that is to say a 35 % discount!!!) on this set including:
Himber Flash "Complete routine"
(Himber wallet, Tally-ho deck, Mirage deck, 10 white cards)
Buddha Money Mystery
(Coins change into bill)
The Silvan magic book
(A white book printed by magic)
Anti-Gravity Trio :
(3 amazing effects of fluid levitation)
2 thumb tips + Card silks 6"
(The selected card is printed on a silk)
Stiff rope
(A rope becomes stiff when asked)
Incredible Disappearance
(The magician is sure to win)
A mini deck


Télépathy


A Svengali deck.

Return to the catalogue


The items from this "Magic Set"
We advise you with this product :
1.
Case with 21 magic items.
85 €