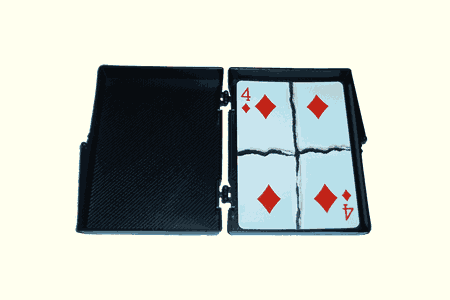 Description
Posez la boite dés le début du tour sur la table. Faites choisir une carte puis, pour bien la reconnaître, demandez à un spectateur de la déchirer en 4.
Expliquez maintenant que pour faire le tour il faut que la carte soit reconnaissable mais pas au point de la déchirer entièrement. Montrez leur alors comment reconstituer la carte, prenez la boite, ouvrez-la et placez les morceaux à l'intérieur. Fermez la boite et rouvrez la immédiatement, le carte s'est reconstituée en un éclair.
Faite ensuite signer votre carte puis commencez votre routine de carte ambitieuse par exemple.
Dimensions :
Longeur : 9,5 cm
Largeur : 7 cm
Hauteur : 2,3 cm

Return to the catalogue


We advise you with this product :
1.
Magnetic Card case (Tenyo)
23.5 €