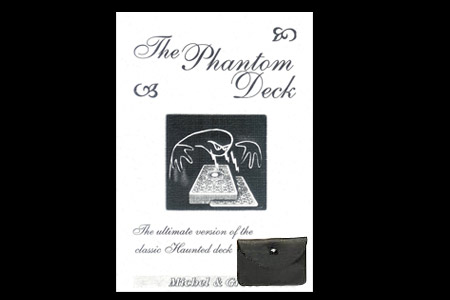 Description
Un spectateur choisit librement deux cartes dans un jeu.
Il les perd ensuite dans le jeu.
Le magicien dépose alors le jeu sur la paume de sa main et commence à onduler son autre main au dessus du jeu.
Les cartes commencent à bouger doucement d'avant en arrière, laissant une carte ressortir.
Le spectateur prend alors sa carte et constate qu'il s'agit d'une des cartes choisies.
Le magicien
reproduit l'effet avec la seconde carte
. Une fois de plus il s'agit de la carte choisie par le spectateur.
Le magicien tend alors le jeu au spectateur pour qu'il l'examine.
Le jeu peut être emprunté.
Livré avec une recharge.
L'effet se déroule en deux temps, correspondant à chacune des cartes.
Une fois le tour terminé vous pouvez immédiatement rendre le jeu au spectateur sans aucun geste suspect.
Le tour ne demande aucune préparation, vous pouvez immédiatement reproduire le tour.
Avec le gimmick en poche, vous pouvez réaliser ce tour n'importe quand.
Vous pouvez présenter le tour quelles que soient les conditions d'éclairage.
Vous n'utilisez ni cire ni patafix.
Vous n'ajoutez aucune carte au jeu.

Return to the catalogue


We advise you with this product :
1.
The Haunted Deck
16 €

2.
DVD Nestor Hato + Nestorizer
49 €

3.
DVD Loops
42 €