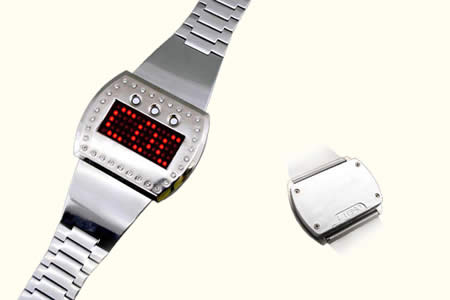 Description
Cette montre argentée à LED programmable est composée, comme son nom l'indique, d'un
écran de LED qui vous permettra d'afficher n'importe quel message.
Idéale pour une prédiction, révélation de la carte, routine avec D'Lites…
Faites votre publicité, Scandez votre nom de scène, faites passer un message comique…
Cette montre peut mémoriser des messages de
118 caractères
(majuscules, minuscules, chiffre, symbole,…).
La programmation se fait de façon simple et directe à l'aide de 3 boutons situés à sur le haut du cadran, nul besoin de PC, elle est
entièrement autonome
. Vous pourrez certes écrire vos messages mais aussi régler la luminosité et la vitesse de déroulement du message.
Fonctionne avec 1 piles CR2032 (Offerte).

Bracelet argenté métallique.

Couleur : Rouge.



Return to the catalogue


We advise you with this product :
1.
Montre à LED bleue programmable
29.5 €

2.
Prediction fan
19.5 €

3.
Cadre à led Rouge programmable
42.5 €