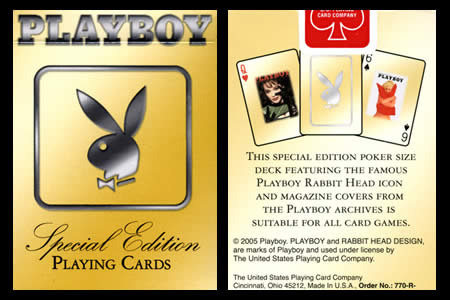 Description
Un jeu de cartes original directement sorti du très célèbre magazine Playboy.
Une merveille signée Bicycle.
Retrouvez les images des plus jolies Playmates des dernières décennies.
Chaque carte représente une couverture du célèbre magazine.
Retrouvez les plus jolies filles tout en jouant aux cartes.
Un dos en dégradé d'ocre représentant le célèbre lapin de Playboy en gris.

52 cartes différentes.

Deux jokers représentant le lapin de Playboy en noir.

Indices traditionnels.

Jeu de 52 cartes (plus deux jokers) en qualité Bicycle.

Pour adultes seulement.



Return to the catalogue


We advise you with this product :
1.
1800 Series BICYCLE Deck
12 €

2.
BICYCLE Deck
3 €