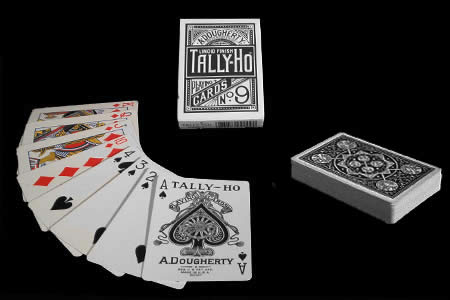 Description
De qualité excellente en accord avec la réputation de la marque Tally-Ho, ce jeu à
dos noir
est tout à fait normal tout en restant
très original !!!
Idéal pour des
changements de couleur
ou tout simplement pour améliorer votre
originalité…
Depuis de nombreuses années, la marque Tally-Ho est très largement vendue dans le monde entier et utilisée par les cartomanes grâce à leur impeccable fini de surface, leur souplesse et leur nervosité. Ces cartes constituent ainsi un accessoire idéal pour toutes les techniques modernes de manipulation de cartes.
Le jeu est livré dans son étui.
Voici des idées qui pourront vous guider pour en faire meilleur usage !!!
A inclure impérativement dans des routines de petits paquets… pour des changements de couleurs avec d'autres couleurs Tally-Ho … telles que le rouge, bleu. Vous pouvez également faire des routines en collant le texte aux cartes en cumulant les différentes couleurs et types de cartes existants !!

Pourquoi ne pas imaginer une scène en Noir et Blanc !!!

Format poker : 63 mm * 88 mm


Vous trouverez en plus dans le jeu une carte double tarot noir.




Return to the catalogue


We advise you with this product :
1.
Brainwave Deck
12 €

2.
DVD Ambitious Card (Daryl)
38 €

3.
Mnemonica (English)
65 €