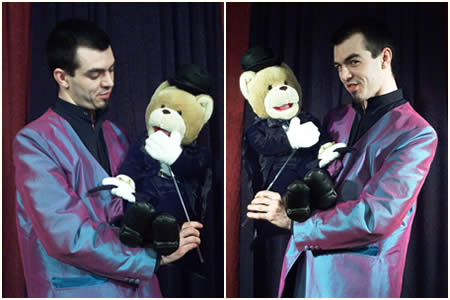 Description
Marionnette de ventriloquie qui vous permettra de
donner vie à l'ourson magicien
. Faites le vivre par les gestes, la parole et les mouvements qu'il peut faire.
Il pourra bien sur bouger les lèvres et la tête mais aussi son bras que vous articulerez avec votre main pour lui donner plus de vie.
Cette marionnette est vraiment magique, elle pourra faire
un tour de télépathie.
Proposez à un spectateur de choisir une carte colorée et de lui mettre dans la bouche sans que vous puissiez la voir.
Concentrez vous et
rentrez dans l'esprit
de l'ourson pour révéler la couleur de la carte qu'il tient dans sa bouche.
Pour ventriloque mais aussi pour marionnettiste.

Hauteur d'environ 70cm.


Return to the catalogue


We advise you with this product :
1.
Comment devenir ventriloque
35 €

3.
DVD Ventriloque Academy
35 €