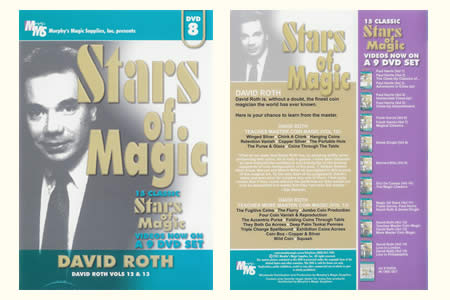 Description
Learn some of the most classic illusions from some of the true Stars of the magic world: Paul Harris, Frank Garcia, Derek Dingle, Bernard Bilis, Eric De Camps, and David Roth!
Volume 8: David Roth

David Roth is, without a doubt, the finest coin magician the world has ever known. Here is your chance to learn from the master.

Contents:


TEACHES MASTER COIN MAGIC
- Winged Silver
- Chink A Chink
- Hanging Coins
- Retention Vanish
- Copper Silver
- The Portable Hole
- The Purse & Glass
- Coins Through The Table


DAVID ROTH - TEACHES MORE MASTER COIN MAGIC
- The Fugitive Coins
- The Flurry
- Jumbo Coin Production
- Four Coin Vanish & Reproduction
- The Accentric Purse
- Folding Coins Through Table
- They Both Go Across
- Deep Palm Tenkai Pennies
- Triple Change Spellbound
- Exhibition Coins Across
- Coin Box - Copper & Silver
- Wild Coin
- Squash


Language
: English,
Running time
: 2h15

Return to the catalogue




You can find this magic item in :
1.
DVD Stars of Magic Vol. 1 - 9
160 €