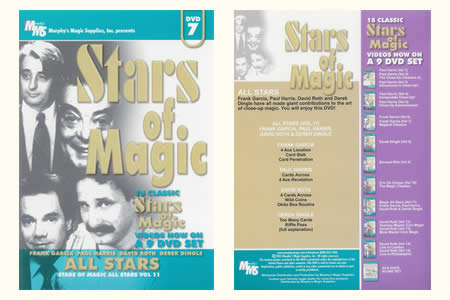 Description
Learn some of the most classic illusions from some of the true Stars of the magic world: Paul Harris, Frank Garcia, Derek Dingle, Bernard Bilis, Eric De Camps, and David Roth!
Volume 7: Magic All Stars

Frank Garcia, Paul Harris, David Roth and Derek Dingle have all made giant contributions to the art of close-up magic. You will enjoy this DVD!

Contents:


FRANK GARCIA
- 4 Ace Location
- Card Stab
- Card Penetration


PAUL HARRIS
- Cards Across
- 4 Ace Revelation


DAVID ROTH
- 4 Cards Across
- Wild Coins
- Okito Box Routine


DEREK DINGLE
- Too Many Cards
- Riffle Pass (full explanation)


Language
: English,
Running time
: 59 min

Return to the catalogue




You can find this magic item in :
1.
DVD Stars of Magic Vol. 1 - 9
160 €