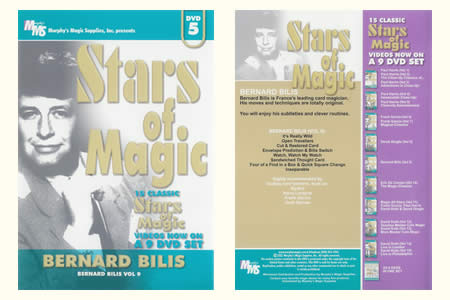 Description
Learn some of the most classic illusions from some of the true Stars of the magic world: Paul Harris, Frank Garcia, Derek Dingle, Bernard Bilis, Eric De Camps, and David Roth!
Volume 5: Bernard Bilis

Bernard Bilis is France's leading card magician. His moves and techniques are totally original.
You will enjoy his subtleties and clever routines.

Contents:


BERNARD BILIS
- It's Really Wild
- Open Travellers
- Cut & Restored Card
- Envelope Prediction & Bilis Switch
- Watch, Watch My Watch
- Sandwiched Thought Card
- Four of a Find in a Box & Quick Square Change
- Inseparable


Language
: English,
Running time
: 54 min

Return to the catalogue




You can find this magic item in :
1.
DVD Stars of Magic Vol. 1 - 9
160 €

We advise you with this product :
1.
Auto deck final vision
15 €

2.
Brainwave Deck
12 €