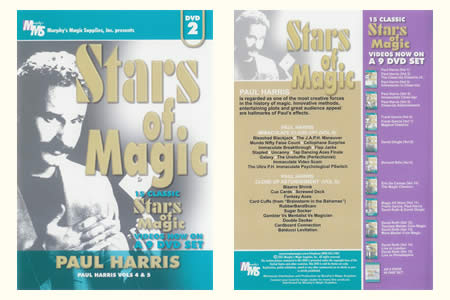 Description
Learn some of the most classic illusions from some of the true Stars of the magic world: Paul Harris, Frank Garcia, Derek Dingle, Bernard Bilis, Eric De Camps, and David Roth!
Volume 2: Paul Harris

Paul Harris is regarded as one of the most creative forces in the history of magic. Innovative methods, entertaining plots and great audience appeal are hallmarks of Paul's effects.

Contents:


PAUL HARRIS - IMMACULATE CLOSE-UP!
- Bleached Blackjack
- The J.A.P.H. Maneuver
- Mondo Nifty False Count
- Cellophane Surprise
- Immaculate Breakthrough
- Flap Jacks
- Stapled
- Uncanny
- Tap Dancing Aces Finale
- GalaxyThe Unshuffle (Perfectionist)
- Immaculate Video Scam
- The Ultra P.H. Immaculate Psychological PSwitch


AUL HARRIS - CLOSE UP ASTONISHMENT
- Bizarre Shrink
- Cue Cards
- Screwed Deck
- Fantasy Aces
- Card Cuffs (from "Brainstorm in the Bahamas")
- RubberBandScam
- Sugar Socker
- Gambler Vs Mentalist Vs Magician
- Double Decker
- Cardboard Connection
- Balducci Levitation


Language
: English,
Running time
: 2h57

Return to the catalogue




You can find this magic item in :
1.
DVD Stars of Magic Vol. 1 - 9
160 €