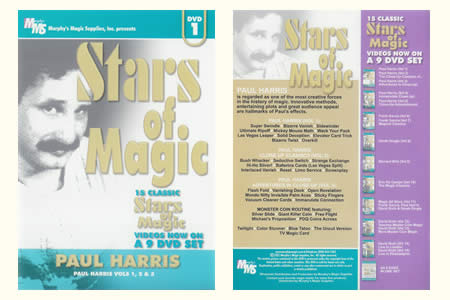 Description
Learn some of the most classic illusions from some of the true Stars of the magic world: Paul Harris, Frank Garcia, Derek Dingle, Bernard Bilis, Eric De Camps, and David Roth!
Volume 1: Paul Harris

Paul Harris is regarded as one of the most creative forces in the history of magic. Innovative methods, entertaining plots and great audience appeal are hallmarks of Paul's effects.

Contents:


PAUL HARRIS
- Super Swindle
- Bizarre Vanish
- Sidewinder
- Ultimate Ripoff
- Mickey Mouse Math
- Wack Your Pack
- Las Vegas Leaper
- Solid Deception
- Elevator Card Trick
- Bizarre Twist
- Overkill


PAUL HARRIS - CLOSE UP CLASSICS
- Bush Whacker
- Seductive Switch
- Strange Exchange
- Hi-Ho Silver!
- Ballerina Cards (Las Vegas Split)
- Interlaced Vanish
- Reset
- Limo Service
- Screenplay


PAUL HARRIS - ADVENTURES IN CLOSE-UP
- Flash Fold
- Vanishing Deck
- Open Revelation
- Mondo Nifty Invisible Palm Aces
- Sticky Fingers
- Vacuum Cleaner Cards
- Immaculate Connection
- MONSTER COIN ROUTINE featuring:
Silver Slide
Giant Killer Coin
Free Flight
Michael's Proposition
PDQ Coins Across
- Twilight
- Color Stunner
- Blue Tatoo
- The Uncut Version
- TV Magic Card


Language
: English,
Running time
: 3h28

Return to the catalogue




You can find this magic item in :
1.
DVD Stars of Magic Vol. 1 - 9
160 €