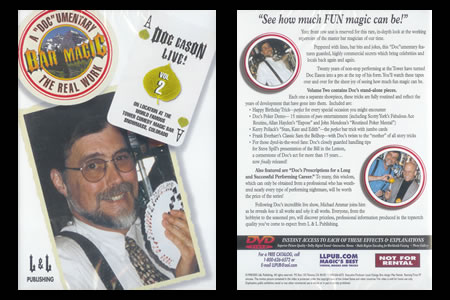 Description
Your front row seat is reserved for this rare, in-depth look at the working repertoire of the
master bar magician
of our time.
Peppered with lines, bar bits and jokes, this "Doc"umentary features guarded, highly commercial secrets which bring celebrities and locals back again and again.
Twenty years of non-stop performing at the Tower have turned Doc Eason into a pro at the top of his form. You'll watch these tapes over and over for the sheer joy of seeing
how much fun magic can be.
Volume 2
contains Doc's stand-alone pieces.
Each one a separate showpiece; these tricks are succefully routined and reflect the years of development that have gone into them.
Contents:


Happy Birthday Trick

Doc's Poker Demo

Kerry Pollack's "Stan, Kate and Edith"

Frank Everhart's Classic Sam the Bellhop

For those dyed-in-the-wool fans: Doc's closely guarded handling tips for Steve Spill's presentation of the Bill in the Lemon, a cornerstone of Doc's act for more than 15 years... now finally released!



Also featured are "Doc's prescriptions for a long and successful performing carreer
Language
: English,
Running time
: 1h37

Return to the catalogue
This item is no longer
sold on Magicaplanet