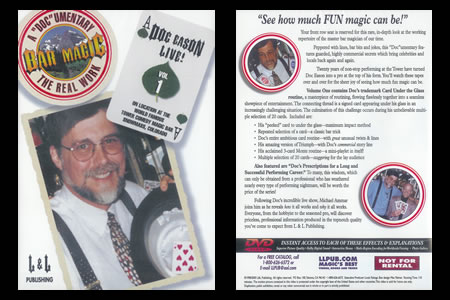 Description
Your front row seat is reserved for this rare, in-depth look at the working repertoire of the
master bar magician
of our time.
Peppered with lines, bar bits and jokes, this "Doc"umentary features guarded, highly commercial secrets which bring celebrities and locals back again and again.
Twenty years of non-stop performing at the Tower have turned Doc Eason into a pro at the top of his form. You'll watch these tapes over and over for the sheer joy of seeing
how much fun magic can be.
Volume 1
contains Doc's trademark
Card under the glass routine
, a masterpiece of routining, flowing flawlessly together into a seamless showpiece of entertainment.
The connecting thread is a signed card appearing under his glass in an increasingly challenging situation. The culmination of this challenge occurs during his unbelievable multiple selection of 20 cards.
Contents:


His "peeked" card to under the glass

Repeated selection of a card

Doc's entire Ambitious Card routine

His amazing version of Triumph

His acclaimed 3-Card Monte routine

Multiple selection of 20 cards

Also featured are "Doc's prescriptions for a long and successful performing carreer
Language
: English,
Running time
: 1h50

Return to the catalogue




You can find this magic item in :
1.
Lot DVDs Bar Magic (Doc Eason)
100 €