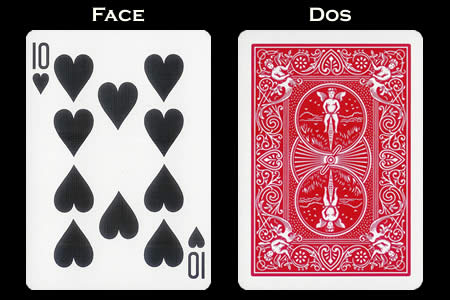 Description
Enfin une idée originale pour faire croire à votre public que vous venez de vous tromper... Mais non !
Le 10 de Coeur est bien noir.
Nombreux effets possibles.

Imprimé par Bicycle.

Dos rouge Bicycle

Carte Bicycle format Poker : 63 x 88 mm.


Exemple de routine :

Faites choisir une carte par un spectateur (10 de Coeur).

Demandez lui maintenant de reposer sa carte dans le jeu afin que vous puissiez le mélanger pour perdre la carte.

Expliquez pendant ce temps que les cartes sont vivantes et qu'elles peuvent se déplacer dans le paquet.

Faites une passe magique et la carte remonte sur le dessus du paquet.

Vous vérifiez en regardant la carte en cachette et annoncez fièrement que la carte choisie et une carte noire.

Les spectateurs vont commencer à rigoler face à tel un dilemme.

Il vous annonce que non, la carte est bien rouge. Ne perdez pas votre assurance et demandez leur s'ils en sont bien sur.

Puis retournez tranquillement la carte choisie et posez la sous leurs yeux ébahis; car non seulement la carte est bien le 10 de Coeur du spectateur mais en plus elle est bel et bien noire.


Return to the catalogue


We advise you with this product :
1.
BICYCLE Deck
3 €

2.
Bicycle Gaff Deck (Tiger)
35 €

3.
Bicycle Gaff Deck (Ghost)
30 €