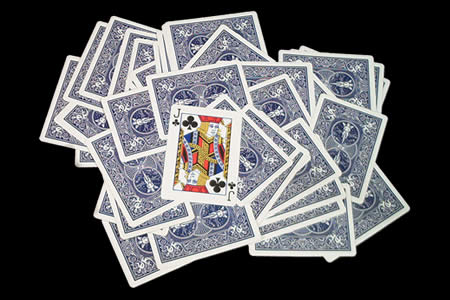 Description
Vous faites une
prédiction
sur un papier que vous pliez en quatre et laissez bien en vue du public.
Vous montrez un jeu de cartes, vous le mélangez dans tous les sens, puis vous le confiez à un spectateur qui le tient entre ses mains au-dessus d'une table et se frotte les mains comme s'il s'agissait d'un morceau de savon de sorte que toutes les cartes tombent sur la table en s'éparpillant.
Vous retirez les cartes tombées face en bas et renouvelez l'opération jusqu'à ce qu'il ne reste qu'une carte face en l'air sur la table.
Vous révélez alors la prédiction :
c'est bien la carte visible sur la table.
Qualité Bicycle

Return to the catalogue


We advise you with this product :
1.
Carte à l'épée (Tora)
78 €