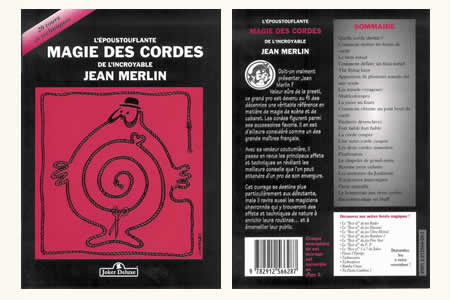 Description
Doit-on vraiment présenter Jean MERLIN ? Valeur sûre de la presti, ce grand pro est devenu au fil des décennies une véritable référence en matière de scène et de cabaret. Les cordes figurent parmi ses accessoires favoris. Il en est d'ailleurs considéré comme un des grands maîtres français.
Avec sa verdeur coutumière, il passe en revue les principaux effets et techniques en révélant les meilleurs conseils que l'on peut attendre d'un pro de son envergure.
Cet ouvrage se destine plus particulièrement aux débutants, mais il ravira aussi les magiciens chevronnés qui y trouveront des effets et techniques de nature à enrichir leurs routines... et à émerveiller leur public
Au sommaire:
Quelle corde choisir ?
Comment arrêter les bouts de corde.
Le faux noeud.
Comment défaire un faux noeud.
The flying knot.
Apparition de plusieurs noeuds sur une corde.
Les noeuds voyageurs.
Multicoloropes.
La passe au fouet.
Enclavés désenclavés.
Fort faible fort faible.
La corde coupée.
Une autre corde coupée.
Les deux cordes siamoises.
Pénétration.
Le chapelet de grand-mère.
Routine pour enfants.
Les menottes du Jonkistan.
Totalement impromptu.
Passe-muraille .
Le bonneteau aux 2 cordes.
Raccommodage au bluff .
Livre ene français. Format : 15 * 21 cm, 48 pages

Return to the catalogue




We advise you with this product :
1.
Red Cord 10 mm
16 €