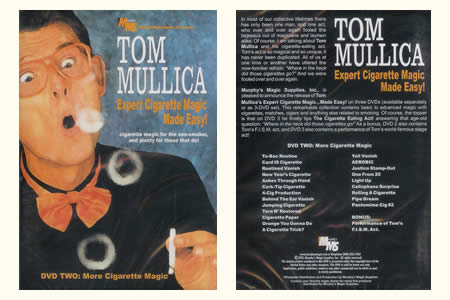 Description
In most of our collective magical lifetimes there has only been one man, and one act, who over and over again fooled the bejeesus out of magicians and laymen alike : of course, we are talking about
Tom MULLICA
and his cigarette-eating act. Tom's act is so magical and so unique, it has never been duplicated. All of us at one time at another have uttered the now-familiar refrain : "Where in the heck did those cigarettes go?" And we were fooled over and over again.
CONTENTS :
To-Bac Routine

Card IS Cigarette

Routined Va,ish

New Year's Cigarette

Ashes Through Hand

Cork-Tip Cigarette

4-Cig Production

Behind the Ear Vanish

Jumping Cigarette

Torn N' Restored Cigarette Paper

Orange You Gonna Do A Cigarette trick?

Yell Vanish

AEROBIC

Justice Stamp-Out

One From 20

Light Up

Cellophane Surprise

Rolling a Cigarette

Pipe Dream

Pantomime Cig #2

Bonus : A performance of Tom's F.I.S.M Act


Language : English.



Return to the catalogue
This item is no longer
sold on Magicaplanet