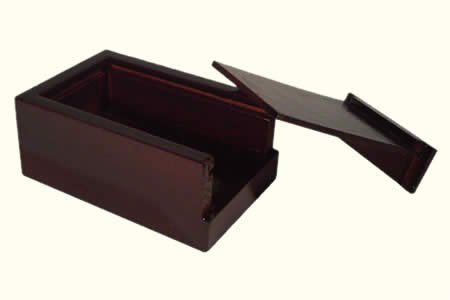 Description
Cette petite boîte inoffensive en étonnera plus d'un.
Mettez une bague dedans, et secouez-la du bout des doigts.
Vous entendez la bague à l'intérieur ???
Donnez maintenant au spectateur la boîte en bois que vous tenez toujours du bout des doigts, et
quand il l'ouvre la bague a disparu…
Grâce à cette boite, vous serez en mesure de faire disparaître des bagues, pièces, jetons...
Dimensions :
Longueur : 8,8 cm.
Largueur : 5,7 cm.
Hauteur : 3,6 cm.

Return to the catalogue


We advise you with this product :
1.
Any ring
26.5 €

2.
Interlace (R. Sanders)
79.5 €

3.
Flying Ring (G. Bloom)
36 €