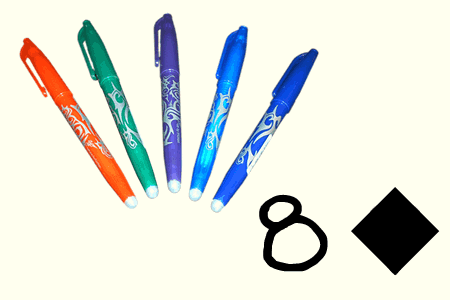 Description
Ce stylo possède une encre spéciale qui disparaît sous l'effet de la chaleur et réapparaît sous l'effet du froid.
La flamme d'un briquet ou toute autre source de chaleur du même genre permet de faire disparaître l'inscription du frixon ball.
L'utilisation d'un glaçon dans un FP ou le simple fait de mettre le bout de papier dans le congélateur permet de faire réapparaître l'encre.
IDEES DE ROUTINES :
Utilisez un glaçon et un faux pouce pour faire apparaître une prédiction.


Faites mettre un papier vierge dans une enveloppe. Demandez à une personne de signer l'enveloppe avant de la cacheter. Placez-la dans un endroit isolé comme le congélateur. Faites choisir une carte (que vous forcez) : lorsque vous ressortez le bout de papier de l'enveloppe, la carte choisie y est inscrite.


Forcez le 3 de cœur. Vous sortez alors un papier où est inscrit le 8 de carreau. Mais lorsque vous mettez le papier à la flamme du briquet, l'inscription 3 de cœur apparaît.
Disponible en 5 Couleurs :
Noir, Bleu, Rouge, Vert.

Return to the catalogue


You can find this magic item in :
1.
Beach kit
100 €

We advise you with this product :
1.
Magnetic Card case (Tenyo)
23.5 €

3.
The magic pen
14.5 €