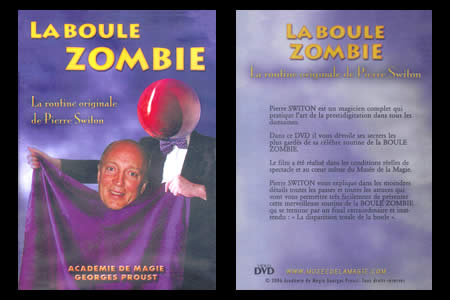 Description
Pierre SWITON
est un magicien complet qui pratique l'art de la prestidigitation dans tous les domaines.
Dans ce DVD, il vous dévoile ses secrets les plus gardés de
sa célèbre routine de la BOULE ZOMBIE.
Le film a été réalisé dans les conditions réelles de spectacle et au cœur même du Musée de la Magie.
Pierre SWITON
vous explique dans les moindres détails toutes les passes et toutes les astuces qui vont vous permettre très facilement de présenter cette merveilleuse routine de la BOULE ZOMBIE, se terminant par un final extraordinaire et inattendu :
« La disparition totale de la boule ».
Langue :
Français –
DVD Multizone.

Return to the catalogue




We advise you with this product :
1.
Foulard zombie de luxe
9.5 €

2.
Zombie Ball Silver (Vernet)
40 €

3.
Shining Speaker Skull
325 €