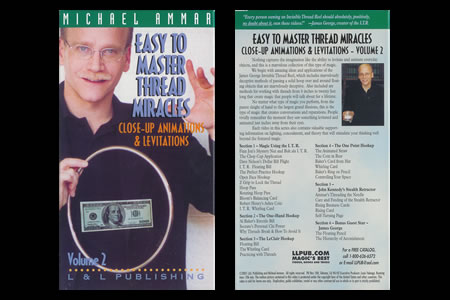 Description
We begin with amazing ideas and applications of the James George Invisible Thread Reel, which includes marvelously deceptive methods of passing a solid hoop over and around floating objects that are marvelously deceptive. Also included are methods for working with threads from 6 inches to 20 feet long that create magic that people will talk about for a lifetime.
CONTENTS
Section 1 – Magic Using the I. T. R.

Finn Jon's Mystery Nut and Bolt ala I. T. R

The Chop Cup Application

Dave Nelson's Dollar Bill Flight

I. T. R. Floating Bill

The Perfect Practice Hookup

Open Face Hookup

Z Grip to Lock the Thread

Hoop Pass

Rotating Hoop Pass

Bloom's Balancing Card

Robert Henry's Ashra Coin

I. T. R. Whirling Card




Section 2 – The One-Hand Hookup

Al Baker's Erectile Bill

Socrate's Personal Chi Power




Section 3 – The LeClair Hookup

Floating Bill

The Whirling Card




Section 4 – The One Point Hookup

The Animated Straw

The Coin in Beer

Baker's Card from Hat

Whirling Card

Baker's Ring on Pencil




Section 5 – John Kennedy's

Stealth Retractor

Ammar's Threading the Needle

Care and Feeding of the Stealth Retractor

Rising Business Cards

Rising Card

Self-Turning Page




Section 6 – Bonus Guest Star James George

The Floating Pencil

Tips & Theory

Why Threads Break and How To Avoid

Practicing with Threads

Controlling Your Space

The Hierarchy of Astonishment





Language : English.



Return to the catalogue
This item is no longer
sold on Magicaplanet