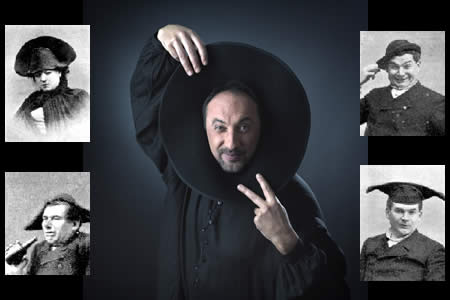 Description
Ce lot unique comprend le DVD "Le Chapeau Tabarin" de P.Curt et un chapeau de Tabarin qui a fait ses preuves depuis plus de 250 ans !!!
Créé vers 1750 par un comédien français TABARIN, ce chapeau permet
une infinité de « portraits » et de « personnages »
qui n'a de limite que votre imagination !
Les changements de tête sont spectaculaires et instantanés !
Après tant d'années de comédie et de magie,
Patrice Curt
est parvenu à allier ces deux arts dans son spectacle.
A partir d'une simple rondelle de feutre vous pourrez présenter une quarantaine de personnages.
Dans ce
DVD de la production MAGICAPLANET
toutes les figures sont présentées, enchaînées, puis détaillées une par une afin que vous puissiez élaborer votre propre spectacle. De plus pour une meilleure compréhension, il est filmé sous plusieurs angles et en trois langues, vous permettant ainci de bien visualiser chaque détail des manipulations.
AU SOMMAIRE :
Introduction
- Présentation du Chapeau de Tabarin


Préparation
- Fabrication et entretien du Chapeau


Les figures
- Figures à plat
Le bébé, le matamore, le touareg…

- Figures à un pliage
Le pêcheur, la bonne sœur, le diable, le chinois, le pirate, l'ivrogne…

- Figures à deux pliages
Le prêtre, le laquais, le rocker, l'officiel de marine, l'arlequin…

- Figures avec une pince
Le turc, Pinocchio, le clown blanc, le sorcier, la fermière…


Langue : Français, Anglais, Espagnol - Durée : 100 mns - DVD multizone.




Return to the catalogue






The items from this "Magic Set"
2.
Tabarin's hat
40 €