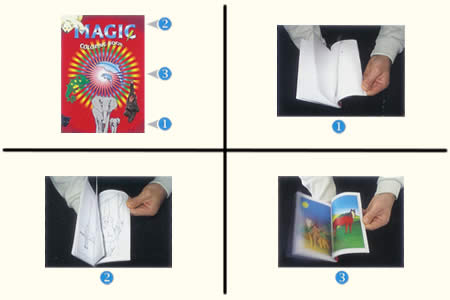 Description
Ce tour
complètement automatique
, réalisable en moins d'une minute après l'avoir reçu, ébahira petits et grands.
Les pages du livres sont toutes montrées blanches, des 2 cotés (Fig. 1)

Un coup de baguette magique et voila que des animaux ont investi les pages du livre (Fig. 2)

Sous les encouragements du public, il ne vous reste plus qu'à leur donner de la couleur (Fig. 3)
Dimensions : 28,5 x 21,2 cm.




Return to the catalogue


You can find this magic item in :
1.
Budding magician 2
72 €

We advise you with this product :
1.
Le peintre magicien (Nouveau Modèle)
11.5 €

2.
Junior Folding Top Hat
32 €

3.
Magic wand 9.5
1.5 €