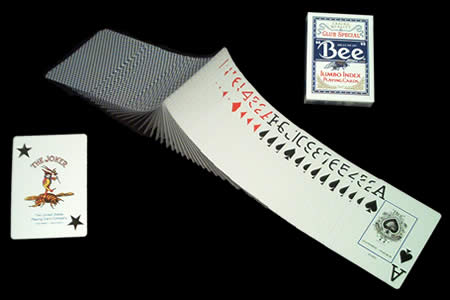 Description
Jeu de 54 cartes format poker.
Jeu de cartes utilisé pour démonstration de tricheries et aussi pour manipulation de cartes sur scène.
Voici un jeu de cartes format poker signé
Bee
ayant l'étonnante propriété d'avoir les
index bien plus grands
que la normale.
Efficace en Magie, il s'avère aussi très pratique pour les personnes âgées, les malvoyants...
Disponible en cartes à dos rouge ou bleu.


Format poker (63 x 88 mm).




Return to the catalogue


You can find this magic item in :
1.
Jumbo Index BEE Deck Pack
45 €