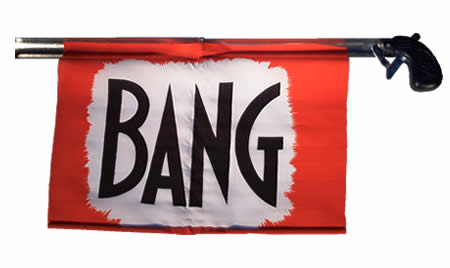 Description
Un gag charmant qui produit un grand effet dans n'importe quel numéro, pour enfants ou pour adultes.
Au moment où vous voulez créer un effet magique, vous saisissez un grand revolver à l'aspect dangereux, et vous demandez au public de se préparer pour le « grand Bang ». Vous pouvez tirer beaucoup d'effet de la sensation, en simulant de faux départs au moment de tirer le coup de feu. Par exemple vous pouvez prétendre que vous êtes trop nerveux, ou inspecter le barillet… Vous pouvez aussi placer deux grands morceaux d'ouate dans vos oreilles, etc.
Dans les spectacles pour enfants, vous pouvez demander à tous les enfants de placer leurs mains sur leurs oreilles, etc. Après cette mise en condition, vous pressez la détente.
Immédiatement, le canon du pistolet s'ouvre en doublant de longueur et une banderole se déroule, portant le mot «
BANG
» en grosses lettres !




Longueurs du canon : 39 cm
.

Return to the catalogue


We advise you with this product :
1.
Percussion caps
1.5 €