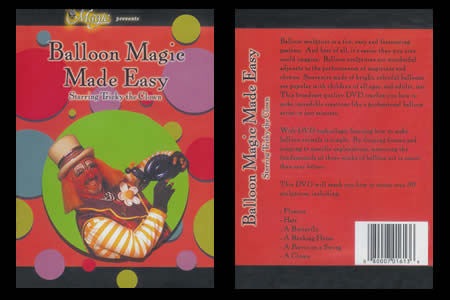 Description
La sculpture de ballon est un plaisir, un passe-temps facile et fascinant.
Et c'est plus facile que vous ne l'auriez imaginé.
Les sculptures de ballons sont de merveilleuses adjonctions à des performances de magiciens ou de clowns.
Des souvenirs faits de ballons brillants, colorés sont
populaires auprès des enfants de tous les âges
mais des adultes également.
Cette qualité d'enregistrement DVD vous apprend comment
faire des créations incroyables tel un artiste de ballon professionnel
en quelques minutes !
Avec la technologie des DVD, il est facile d'apprendre comment
faire des animaux en ballons.
En stoppant les images, en découvrant les explications spécifiques, connaître et utiliser les principes fondamentaux de la sculpture de ballons est plus simple qu'auparavant !
Ce DVD vous apprendra comment
créer plus de 30 sculptures
.
voici quelques exemples :
Fleurs.

Chapeaux.

Un Papillon.

Un Cheval à bascule.

Un Perroquet sur une balançoire.

Un Clown.


Langue : Anglais – DVD 5.




Return to the catalogue




We advise you with this product :
1.
Qualatex 260Q balloon
8.95 €