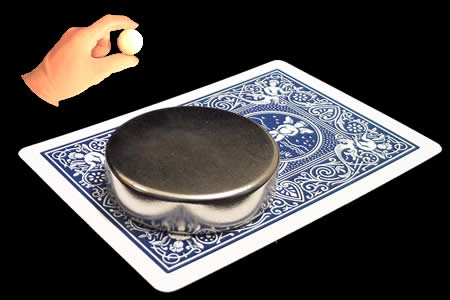 Description
L'aimant est l'accessoire indispensable du magicien un peu bricoleur : il se dissimule dans vos habits, sous une table ou mieux dans un FP et permet d'améliorer de nombreuses routines de télépathie, cartes, pièces,...
Certes celui-ci est un peu gros pour un F.P, mais son champ d'action est suffisamment large pour trouver
des routines intéressantes.
Pour le dissimiler il n'y a aucun problème il suffit de l'installer dans un étui de jeu de carte, un paquet de cigarette ou un simple livre, de façon à éloigner tout soupçon.
Il vous permettra entre autre de rendre magnétique toutes sortes d'objets
dans la propre main du spectateur.Aimant en néodyme
(Métal rare très puissant).

Return to the catalogue


We advise you with this product :
1.
Magnetic Magic
30 €

2.
Wizard PK Ring - Gold (18 mm)
34.5 €

3.
BICYCLE Magnetic Card
8 €