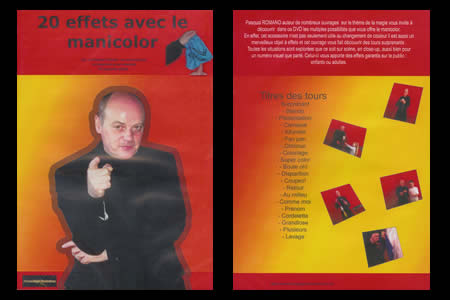 Description
Pascal romano
auteur de nombreux ouvrages sur le thème de la magie vous invite à découvrir, dans ce DVD, les multiples possibilités que vous offre le manicolor.
En effet, cet accessoire n'est pas seulement utile au changement de couleur, il est aussi un
merveilleux objet à effets
et cet ouvrage vous fait découvrir des tours surprenants.
Toutes les situations sont explorées, que ce soit sur scène, en close-up, aussi bien pour un numéro visuel que parlé. Celui-ci
vous apporte des effets garantis sur le public : enfants ou adultes.
AU SOMMAIRE :
Surprenant

Blendo

Présentation

Carnaval

Allumée

Pan pan

Diminue

Coloriage

Super color

Boule oh !

Disparition

Coupez !

Retour

Au milieu

Comme moi

Prénom

Cordelette

Grandiose

Plusieurs

Lavage


Langue : Française - Durée : Environ 1 heure.




Return to the catalogue




We advise you with this product :
1.
Manicolor Dye Tube (Vernet)
13.5 €

2.
50 tours avec un manicolor
19 €